Lattimer, global leading IS variable equipment supplier to OEMs, has received the 2018 Queen's Award for Enterprise, International Trade.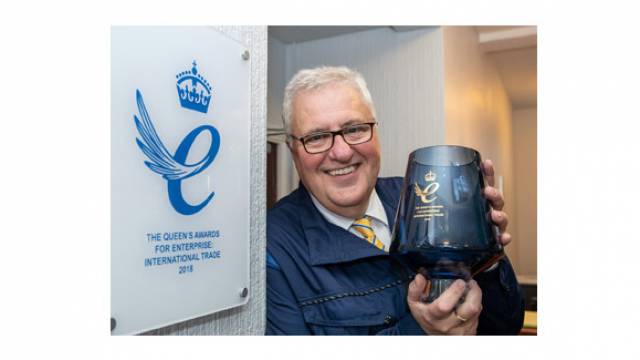 Lattimer Managing Director Mark Hailwood recieving the Queen's Award for Enterprise, International Trade
Global glass industry firm Lattimer has been officially recognised as a world-class exporter after being presented with the 2018 Queen's Award for Enterprise, International Trade.
The precision-machinist manufactures around 30,000 different products for container glass manufacturing plants in more than 60 countries worldwide. Its prolific record has now been officially recognised by the Government office in charge of honouring 'outstanding achievements by UK businesses'. Lattimer has offices in Southport UK and New Jersey USA.
Queen's representative and Lord-Lieutenant of Merseyside Mark Blundell visited the GBP 12million turnover company to present the award to the firm's senior management, employees and apprentices. It follows a Royal Reception held at Buckingham Palace, hosted by The Prince of Wales, attended by Lattimer Holdings CEO Stephen Waterhouse and Managing Director Mark Hailwood.
Lattimer is also now permitted to fly The Queen's Award flag outside its head office and use the Queens Award logo on all company stationary for a period of five years. Mr Waterhouse said the presentation marked a significant moment in the company's 76-year history following 40 years at the forefront of design and manufacture of components for the glass container industry.
"This is an incredibly proud moment for each and every person who has contributed to the success of Lattimer since its inception in 1942," he said. "This business has remained hungry and ambitious. For decades...
expand