The curved glass facade of Hamburg's Elbphilharmonie looks like a massive wave floating 360 feet (110 meters) above the Elbe River. However, glass, a highly adaptable material, has done more than leave a lasting impression on passers-by admiring the concert hall's exterior architecture. Inside, the semi-transparent MIRONA® glass from SCHOTT brings out surprising reactions: at first, it appears to be a mirror before it magically transforms into an information display.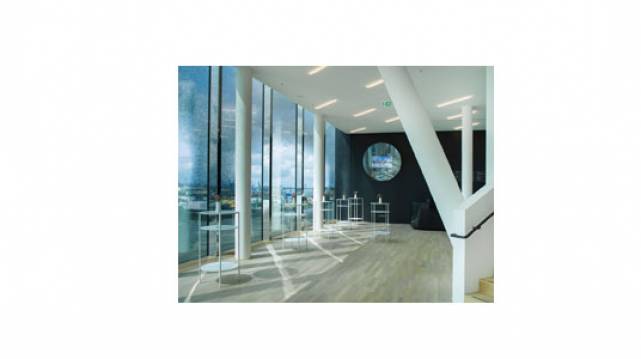 Mirror, mirror: If the screen remains switched off behind the glass, the MIRONA® mineral glass coated on both sides acts like a mirror
Awe is the best way to describe the emotional reaction when observers see this architectural ingenuity for the first time. Designed by Swiss architects Herzog & de Meuron, and unveiled in January, the Elbphilharmonie is astonishing in its firework-like display of design forms. Contributing to the creative presentations within the building's interiors are 32 round TV-mirror displays with diameters of approximately 35, 55, or 67 inches (90, 140, or 169 cm), carefully placed on walls throughout the entire building. The circular mirrors tilt toward visitors, appearing to open the view to new spaces. Suddenly, the glass transforms into a digital display showing relevant information to concertgoers, such as providing directions or dates for upcoming events.
The solution involves double layers: central to the design's construction is semi-transparent mirrored glass MIRONA® from SCHOTT. On its reverse side, passe-partout has been imprinted to cover up the contours of a television display hidden behind it. When the display behind the glass remains switched off, the double-coated mineral glass functions as a mirror. However, when switched on, the interference layers from the light beams allow images to be projected on the display screen.
"This fascinating interplay between reflection and transmission makes it possible to incorporate a clever staging of the space and objects involved," notes Moritz Busch, who, in his role as Sales Manager Processed Glass at SCHOTT, was closely involv...
expand