The Tropical Rainforest exhibit at the National Aviary has a canopy featuring bird-friendly glass with laminated Starphire Ultra-Clear® glass by Vitro Glass.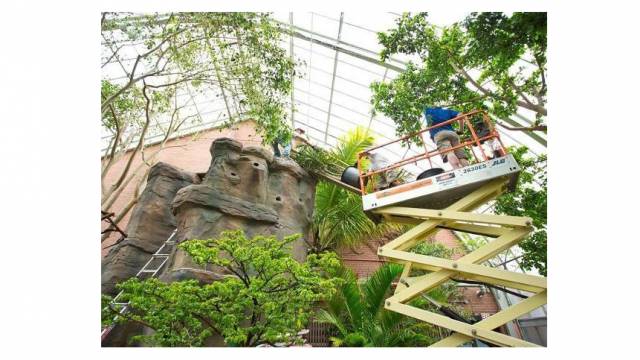 National Aviary's new bird habitat unveiled after extensive renovation
Covered by a new bird-friendly glass canopy featuring laminated Starphire Ultra-Clear® glass by Vitro Glass, the Tropical Rainforest exhibit at the National Aviary reopened on 13 July following a four-month-long renovation.
The restoration, which began in March and is the first in the popular exhibit's 66-year history, involved the installation of 19,600-square-feet of Starphire Ultra-Clear® glass, featuring AviProtek® bird-friendly Velour acid-etched finish by Walker Glass; the addition of new immersive activities for the 72 birds that live there; and the installation of new lighting and flooring.
An invitation-only ribbon-cutting ceremony, which was attended by approximately 100 dignitaries and special guests, was held before the exhibit reopened to the public at noon.
Bird-safety experts at the National Aviary consulted with architectural representatives from Vitro Glass to determine the best solution for replacing the original single-strength annealed float glass that was installed during the habitat's construction in 1952.
"The unique bird-friendly glass selection played a key role in transforming the space, both because it protects birds inside and outside the habitat and because the UV light penetration is so beneficial in supporting plant and animal life," explained Cheryl Tracy, executive director of the National Aviary.
The custom specification incorporates complete acid-etched coverage on the exterior (#1) surface of an ultra-premium, low-iron glass made by V...
expand