With the recent installation of a Bystronic glass B'JUMBO IG line, Metro Performance Glass aims to set new industry standards.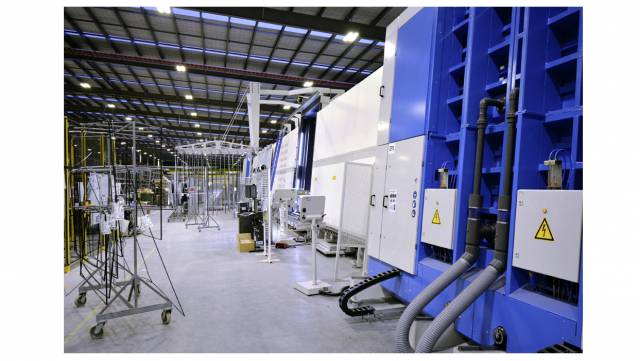 Assembly, gas fill and press robot with quick gas filling system
Bystronic glass once again achieved great success after the commissioning and installation of a new B'JUMBO IG line in Auckland, New Zealand. The progressive project is part of an expansion phase at one of Australasia's leading glass processors – Metro Performance Glass.
With a broad product range that caters for both domestic and commercial markets Metro Performance Glass has established a reputation for excellence which their customers rely upon. The B'JUMBO IG production line from Bystronic glass was the preferred choice for this installation, with its technically advanced capabilities that provide greater accuracy and faster output to cope with market demands as they increase.
As product design in the glass market diversifies, the need to invest in greater automation that can easily handle an expanding product range, that includes double glazed units, laminated glass products as well as toughened and heat soaked glass, became essential for the Highbrook based manufacturers.
Accommodating glass dimensions from min. 190 x 350mm, max. 3210 x 6000mm, the B'JUMBO system can produce insulating glass units or commercial units from 12-80mm in thickness. Using the Bystronic glass shape catalogue, customers can diversify their portfolio, enabling products to be manufactured in a variety of dimensions and styles. The system opens up new opportunities for Bystronic glass customers, particularly in the commercial sector, and makes an excellent solution in relation to the market'...
expand