Household appliance manufacturers can now implement innovative cooktop lighting solutions with the CERAN EXCITE® product portfolio. The new glass-ceramic materials and coatings enable functional and aesthetic LED lighting with true brilliant colour and contour sharpness in both the cooktop's control and cooking zone. Household appliance manufacturers can now make induction hobs more interactive and exciting than ever before.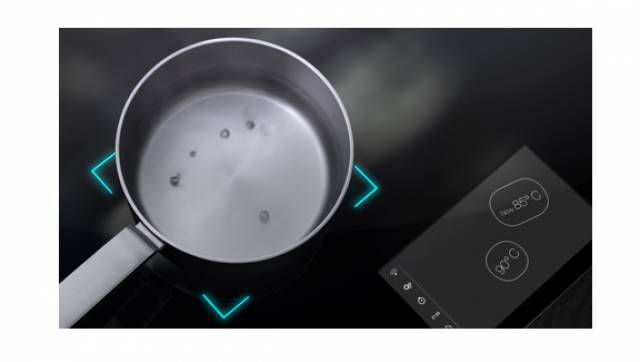 The CERAN EXCITE® portfolio enables lighting elements to be used throughout the cooktop
Light kindles a connection between kitchen appliances and the people who use them. It is a long-established design and functional element in the kitchen. In the case of glass-ceramic cooktops, however, lighting applications beyond the classic red 7-segment display have been difficult to implement due to the special transmission behaviour of the glass-ceramic material. To address lighting design issues, SCHOTT is introducing CERAN EXCITE®, a portfolio of light-optimized materials, filters, and coatings that enable LED light sources mounted under the cooktop to shine through with clarity and brightness. For example, white light shines four times brighter than in conventional cooktops. The portfolio supports household appliance manufacturers in realizing customized solutions, and leading brands have already launched products with the new CERAN EXCITE® technologies. The portfolio was presented at the SCHOTT CERAN® Experience 2018 at ewerk Berlin – an exclusive industry event parallel to IFA 2018.
Designers want flexible lighting options, such as allowing adaptable light indicators in the control and cooking zones, and light displays that follow a pan when it moves across the cooktop. CERAN EXCITE® solutions can help make that happen. The international technology group SCHOTT has optimized glass-ceramic for light displays in controls and cooking zone areas.
The materials can be supplemented with coating and filter solutions that enhance the colour location of light elements, l...
expand