Glassiled Uni active glass features RGB LEDs embedded invisibly in the edge of the glass, making it possible to illuminate all or part of the facade. During the day, this product is indistinguishable from conventional glazing.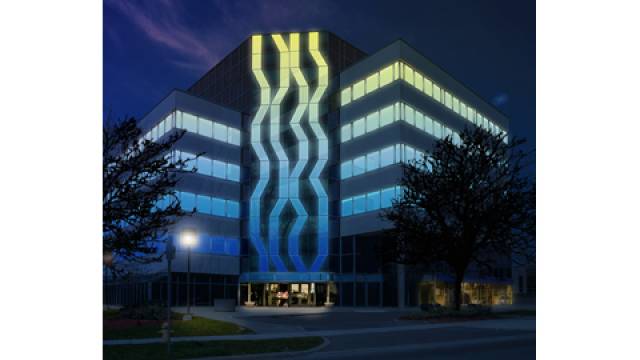 Glassiled Uni – AGC's new active, edge-lit glass product – features embedded LEDs that deliver uniform illumination across the pane
AGC Interpane will be leveraging its presence at glasstec 2018 in Düsseldorf (Hall 10, Stand G38) to present products designed to promote originality: solar control glass featuring enhanced technology and aesthetics, vacuum insulation glass, coloured laminated safety glass, active glass that can light up a façade in an explosion of colours, new decorative glass products and much, much more. However, the exhibit will mainly focus on the unique Coating on Demand service architects and designers can use to create custom coatings. The service will be presented in both a film projected on a large LED wall and in a 1:300 scale model skyscraper designed using this unique service and displayed in a glass case made of AGC's nearly invisible Planibel Clearsight anti-reflective glass. During the special Glass Technology Live show, AGC will present a number of technological innovations, including a highly effective vacuum insulating glazing and a new thin anti-explosion technology.
Architects can deploy AGC Interpane's new Coating on Demand (CoD) service to develop unique custom glazings tailored to their exact requirements and produced independently of the standard product range. Individual technical specifications and optical properties are custom-defined.
This innovative service is powered by AGC's virtual prototyping software, which can deliver a true representation of coated glass in its environment under various climate conditions and based on the physical attributes of the gla...
expand