Guardian Glass' jumbo coater will produce Guardian SunGuard®Coated Glass in jumbo sizes – on lites up to 217 square feet.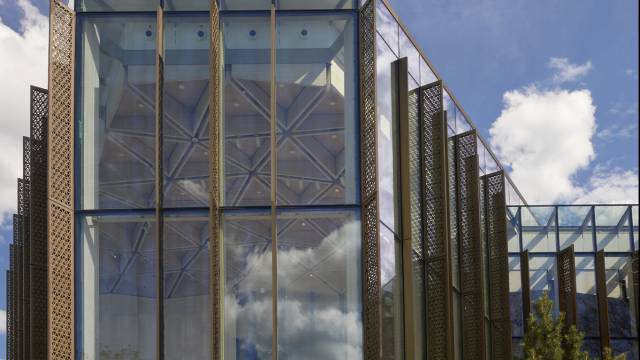 The National Arts Centre in Ottawa is one North American project that utilizes oversize Guardian Glass
Guardian Glass will start its new North American jumbo coater in August. The expansion at the Carleton, Michigan facility is on-schedule to begin producing Guardian SunGuard®coated jumbo glass soon after the start-up.
This jumbo coater is Guardian's 12th, and the first in North America. The company will focus initial production on the most popular double and triple silver SunGuard coated glass for architectural applications. The use of SunGuard coated glass in jumbo sizes – on lites up to 217 square feet – opens up possibilities to architects by delivering expansive views with high performance to their design repertory.
"This jumbo coater will create value for North American independent Guardian Select®fabricators by increasing their product offerings and allowing them to reduce inventory and waste," explains Rick Zoulek, vice president – Americas, Guardian Glass. "We're pleased to soon offer to our North American customers 20 years of jumbo coated glass experience combined with our high performance low-E SunGuard coated glass."
Customers can order jumbo Guardian Glass products in 130" x 204" sizes, and as special orders at 130" x 240". The lites will be available in 6, 8, 10mm thicknesses, and on these jumbo coated clear, tinted and low-iron float substrates according to the launch schedule:
· Clear
· Guardian UltraClear® low-iron
· Gray
· Green
· Guardian CrystalBlue™
· Guardian CrystalGray®
Guardian's SunGuard glass product line for commercial ...
expand