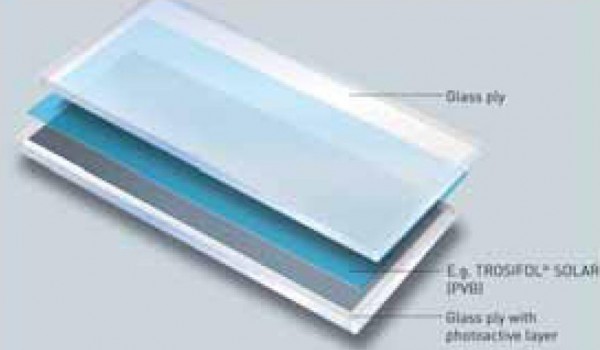 Trosifol: more solar module encapsulation with PVB film
The first manufacturer worldwide to develop a special PVB (polyvinyl butyral) film, a plastic best known so far for its use as the interlayer in laminated safety glass, for use in solar modules – the Trosifol brand – was Kuraray Europe GmbH. Solar modules using Trosifol PVB films have been successfully undergoing outdoor weathering tests on the module test rigs of the Berlin Photovoltaic Institute and the Fraunhofer ISE Institute in Freiburg since the beginning of the 80s. Kuraray is currently working on the market launch of a second generation of films, which is designed for all conventional photovoltaic module production processes and will extend the uses of the current range of films to include special applications.

EVA AS A CELL ENCAPSULATION MATERIAL
Ethylene-vinyl acetate (EVA) is still the market leader and standard encapsulation material for solar cells. EVA's widespread use is explained by its processing properties as a cross-linking rubber-elastic material in vacuum laminators and its adapted technical product features. For a long time there have been no alternatives on the horizon, as finished modules produced since the 90s have a service life of at least 20 years and all products have to be certified. It is therefore difficult for other plastics to gain a foothold on the market if the points in their favour are rarely measurable. Requirement profile for encapsulation materials To ensure module durability and long-term power generation, cell encapsulation mater...
expand