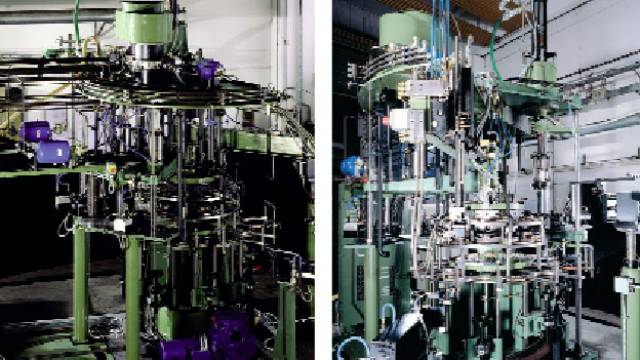 Two images of jug making machine PAS produced by OCMI under AMIG brand
OCMI starts the year 2012 with two installations of jug forming machines in two large glass factories respectively located in Thailand and Turkey. PAS9 and PAS12 are the result of many years of experience in the production of press-blow machines under the AMIG brand.
The two different drive systems installed in these machines, Geneva wheel in one case and Torque motor in the other, demonstrate OCMI's capability to adapt machines according to customers' requests and production needs.
OCMI's machine development is carried out together with the end-user starting from the careful study of drawings and features of the finished products for the production of moulds and mould holders.
Machine structure is sturdy and assures a long working life also thanks to after-sales assistance guaranteed by OCMI worldwide.
In OCMI's point of view, the operator should be able to control machine functions at any moment in the easiest possible way and, therefore, the development of mechanical parts is continuously supported by skilled electronic service for the study of control panels and synchronizations.
OCMI's staff and work enables to obtain the same quality level in all kinds of technical glass lines.