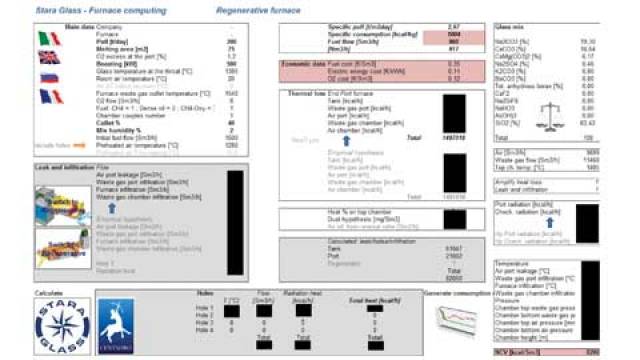 How operating parameters affect a glass furnace heat balance and consumption an analysis by Stara Glass
Glass furnace thermal design
One of Stara Glass' main activities is glass furnace thermal design, for which Stara's research and development team has developed various models to compute the furnace and its heat recovery system. The most important features of Stara Glass software are:
• The models are almost entirely physical, only minor parts are empirical;
• The models have been created and are constantly updated based on the data collected from operating furnaces (more than 100) during the computing of their heat balance.
To provide the customer with a reliable design and, if requested, a consumption guarantee, Stara's models consider all the parameters that affect furnace heat behaviour and performances. This article is meant to show how glass furnace consumption is deeply influenced by these parameters.

Reference case
We consider, as a reference case, a correctly dimensioned regenerative furnace, with the heat balance and operating parameters described in Table 1. The considered fuel is a typical natural gas, with a lower heating value of 8,200 kcal/Sm3. The exposed economic evaluations refer to a fuel cost of 0.35 EUR/Sm3 and an electrical power cost of 0.11 EUR/kWh. In any case, for all computing, electrical boosting usage and gas consumption are indicated, and it is therefore easy to compute the managing costs under any energy price. A common soda-lime glass has been considered for the computing of chemical reactions energy request.
Many factors concur to define wh...
expand


Download full article in PDF