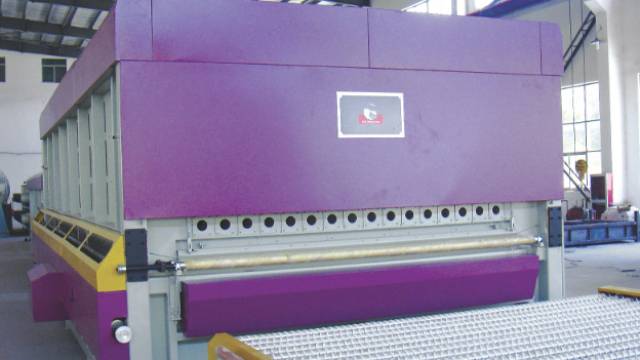 From the outside, a Smart Cycle furnace looks just like a normal radiation heating furnace...
Convection heating background
'Pure' radiation heating furnaces did not actually exist after an advantageous Tamglass 'heating balance' patent expired over 10 years ago. This patent expiration brought roller hearth furnace manufacturers much closer to each other as far as heating technology was concerned. However, already in the 1990s, more advanced companies started to develop blower operated internal circulation convection technologies. There were many failures but already in 1996 the first 'perfect' process was implemented by Ianua of Italy. There were two main secrets of this perfection, both very familiar, from radiation heating furnaces:
the use of good heat focusing control system of radiation heating furnaces was applied for convection air. That means more heat where more heat is needed. More heat is needed where there is more glass, especially important for large sheet sizes; and
the elimination of roller temperature drop with high furnace loading. This also eliminated roller overheating during furnace empty time or low loading.
These features were not patented. The door was therefore open for development.
Considering the many advantages of convection heating furnaces it is surprising to see that convection heating furnaces have not dominated the market more than they have done so far. One reason may be that there are a large number of convection variations, some operated with compressed air, with or without ejector effect. Blower operated convections are al...
expand