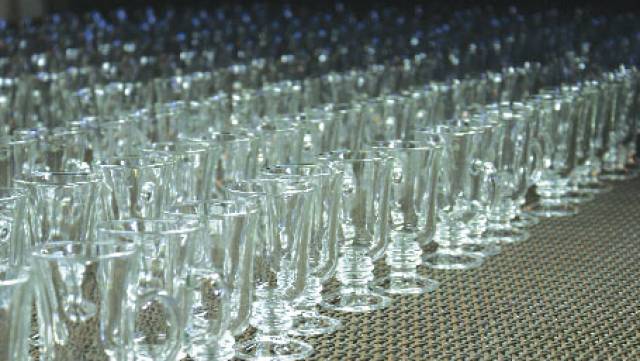 Vidromecanica is dedicated to the production of equipment for the glass industry
Vidromecanica started manufacturing at its own facilities 27 years ago. Today, a team of engineers with experience in glass equipment manufacture, develop different types of equipment such as: annealing and decorating lehrs, annealing and decorating kilns, tempering lines, moulds pre-heating kilns, stackers and cross-conveyors, recycling equipment such as cullet crushers and scraper conveyors. The company has designed and delivered 1,000 machines to more than 100 glass plants in over 45 countries.

Batch compositions – temperature-dependent viscosities and expansion coefficients
Each and every type of glass (soda lime, borosilicate, etc.) is characterized by a different batch composition and, consequently, a different temperature-dependent viscosity and expansion coefficient. During melting, the batch passes continuously from a solid to a liquid state. At forming, it is brought back to a solid, passing the various 'plastic' stages and characterized by different viscosities. These define the characteristic points of glass annealing, such as moulding, softening, annealing and strain points and annealing range (the temperatures between softening, annealing and strain points). Through knowledge of the annealing range, temperature limits for each stage have been established.

Vidromecanica's innovative solutions
With innovative glass machinery solutions for many applications of the glass industry, equipment and systems from Vidromecanica come into operation everywhere – worldwid...
expand