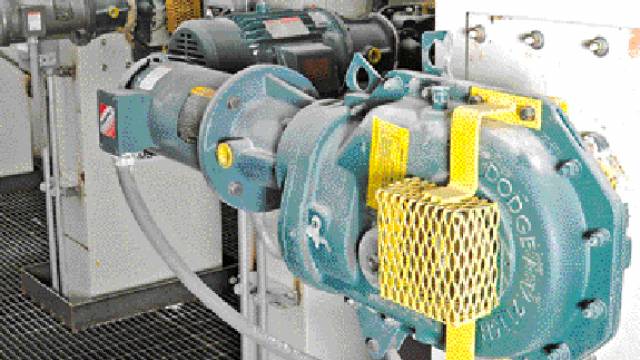 At the front end of the glass bead-making process, bucket elevators move raw materials through the initial stages of grinding and pulverizing
Potters and its production
Starting with recycled glass, the Potters Industries facility in Muscatine, Iowa, United States, produces 23 different sizes of glass beads that are then mixed to clients' specifications. The end product is a truly round glass sphere that optimizes reflectivity. Potters Highway Safety Marking Spheres are applied, or dropped on, when marking lines are applied to a roadway. In late 2007, part of the plant was renovated, adding all new bucket elevators at the front end of the bead-making process. Company engineers say the new construction gave them a unique opportunity to select and standardize on a product they believed would solve existing maintenance problems and help the plant improve its productivity. They installed the totally enclosed shaft-mounted speed reducer, the Baldor-Dodge Motorized Torque-Arm II, a product that has delivered the reliability the engineers were looking for.

Production issues
In the past, belted shaft-mounted reducers were used on bucket elevators moving glass through the initial stages of the process, which include grinding and pulverizing.
In this environment, the glass grain dust, even in minimal amounts, is abrasive to rubber belts, sheaves and sprockets.
Bob Schult, plant production manager, says the belts would wear quickly and then begin to slip, creating a constant maintenance issue. Belts would have to be re-tensioned regularly, but even with the extra time spent to keep the product running, they would go through a s...
expand