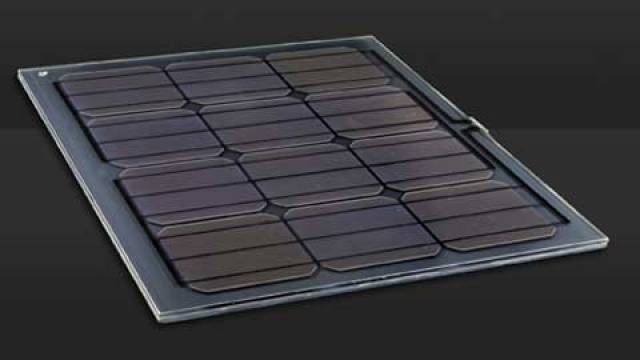 Efficiency miracle: Mono- crystalline silicon solar cells are not only highly efficient but also very flexible in terms or colour. Photo: ertex solartechnik
Thanks to soon-to-come more efficient solar cells and new dimensions, shapes and transparency levels, more and more companies are managing to convince architects of the benefits of their products. This is the opinion of Judit Kimpian of the renowned Royal Institute of British Architects at this year's conference of the European Photovoltaic Technology Platform (EUPVTP) addressing the BIP theme in London. She added that this development was particularly positive because buildings equipped with solar technology emitted less detrimental carbon dioxide and could therefore actively contribute to climate protection.
(Thin, lightweight and bendable: Solar films from organic semi-conductors are easy to manufacture and suited for nearly any application thanks to their product properties. Photo: Tim Deussen, Berlin)


BIPV - still a niche application
However, BIPV (Building-Integrated Photovoltaics) is still a niche application of negligible importance measured by total PV installations worldwide. "It is a side line of the PV industry," explains Gaëtan Masson, Vice President of EUPVTP. Of the just under 40 Gigawatt solar power output newly installed in 2014 worldwide, only about one Gigawatt was accounted for by BIPV – this means the market share of BIPV is as low as 2.5 per cent. One obstacle to market success regards the relatively high costs: building laws and technical requirements vary widely from country to country and even among regions. This is why modules are customised in relat...
expand


Download full article in PDF